WE ARE HIRING!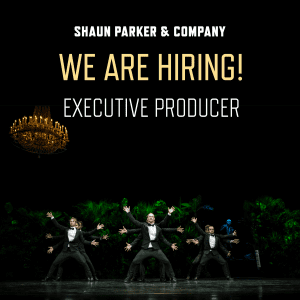 Position Overview 
We are looking for a vibrant, energetic and creative Executive Producer to join us and grow with the success of the Company.    The Executive Producer will oversee the delivery of its artistic programs. Reporting directly to the Artistic Director & CEO (Shaun Parker), the Executive Producer supports Shaun Parker's artistic vision with strong creative producing skills to generate and implement the Company's internationally renowned productions globally and across Australia.
Features of the role 
•    Lead the Creative Producing of the Company's new works in development.
•    Work with a creative arts organisation with established infrastructure and support including already-secured medium term funding from Create NSW, and a diverse, experienced and supportive Board committed to agility, pace, practicality and innovation.
•    Collaborate with and get exposure to national and international networks, with regular international trips to arts markets.
•    Contribute to leading an organisation to produce and tour Shaun Parker's works across Australia and to the international stage.
•    Working with our outstanding dancers and creatives over a range of projects.
•    Supported by direct-reports full-time Project Co-Ordinator, part-time Project Producer, Finance Manager, Consultant Publicist, Bookkeeper, and Graphic Designer.
Key Criteria The Executive Producer should possess: 
•    Extensive experience and proven track record in creative producing performing arts productions and programming.
•    Experience in touring performing arts productions, nationally and internationally, and a network of relevant contacts both in Australia and overseas.
•    Extensive track record of securing arts funding with excellent grant writing skills.
•    Senior management experience.
•    Expertise in budgeting and financial management.
•    Experience in developing and implementing strategic plans.
•    Experience in negotiating contracts with artists, partners and venue management.
•    Strong understanding of the technical aspects of theatrical productions.
•    Experience in developing marketing and publicity strategies and in briefing consultants.
•    Proven ability to identify and negotiate program funding opportunities in both government and private sectors.
•    Ability to represent the Company in a wide range of contexts.
•    A commitment to the principles of inclusive ways of working and equal opportunities.
•    Experience working collaboratively, managing and leading small teams.
•    A high level of autonomy, personal integrity and demonstrated good judgement.
Date of commencement:   Ideally Dec 2023 or Jan 2024  (Negotiable: in consultation with successful applicant.)
Salary: Provided on emailed interest in the position.
APPLICATION PROCESS:
For Full Job Description, application details, and Salary and remuneration package, please email your request to:  jobs@shaunparkercompany.com
Applications are due by:  COB Wed 29th November, 2023.
Please note:  applications will be processed as they come in, so we encourage you to send your application before this date.