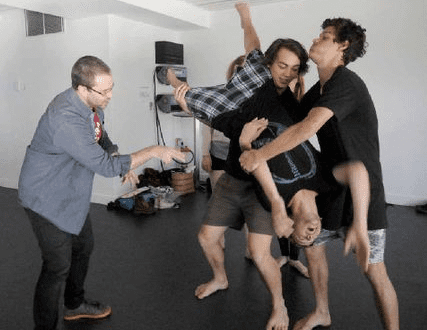 Shaun Parker & Company undertook GENERATE Professional development series for Indigenous dance students in 2014 on the NSW's Central Coast.
GENERATE is a joint initiative between award-winning Shaun Parker & Company and NAISDA Dance College, designed to offer equal access to high quality performing arts experience and professional skills development for aspiring Indigenous youth interested in pursuing a career in the creative arts.
Shaun Parker is committed to education, conducting over 100 workshops in 2013, and in 2012 was awarded Australian Dance Award for Outstanding Commitment in Youth and Community Dance for his work with 33 new migrant teenagers from Western Sydney with a production titled The Yard. The Yard was nominated for a 2013 Helpmann Award for Best Presentation for Children and produced as a ten-minute documentary on Foxtel's Artbreak.
Naisda Dance College, led by Director Kim Walker, formerly known as National Aboriginal and Islander Skills Association, is Australia's national tertiary Indigenous dance training organisation, a member of the Commonwealth Roundtable for Excellence in Arts Training and a VETAB-registered training organisation that provides ground-breaking delivery of a Careers in Dance curriculum to diploma level.
Taking place over 3 terms, students participated in workshops with Shaun Parker & NAISDA graduate Thomas E.S. Kelly, consisting of technique class, task-based processes, dance composition and stage production skills. The students performed 'Rika's Story' at Carriageworks in December which was voted by Suzi Goes See as one of the top dance shows of 2014.