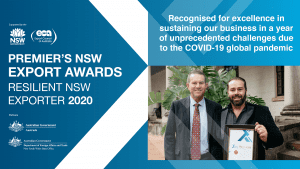 Shaun Parker & Company is among the fifteen NSW businesses to be recognised at the 2020 Premier's NSW Resilient Export Awards luncheon. The Premier's NSW Export Awards have honoured the achievements of outstanding local exporters for the past 57 years. In 2020, the NSW Government adapted the awards program as a platform to celebrate and promote stories of resilience, perseverance and adapting under pressure from the NSW export community.
The Export Council of Australia highlighted the company's achievements in the business profile: "Shaun Parker & Company is … one of Australia's leading exporters of contemporary dance theatre. Its works are renowned for their stimulating choreographic forms, arresting musical scores, and theatrical invention, and it also delivers an extensive range of education and community engagement programs."
Facing the post-pandemic new normal, our company will continue to evolve and produce innovative new works, such as IN THE ZONE, TROLLEYS ON THE ROAD, and HOVER, which will go on national touring in 2021. We look forward to sharing our performances with international audiences again soon!
Find more about 2020 Premier's NSW Resilient Export Awards.