SEEKING: STAGE MANAGER FOR EUROPEAN TOUR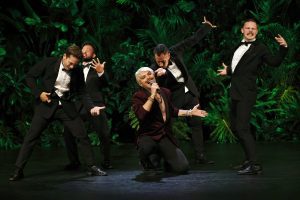 ROLE: STAGE MANAGER FOR EUROPEAN TOUR
DATES: 5th June 2023 – 16th July 2023
LOCATION: 
Sydney: 5th June – 9th June
Touring – Germany, Luxembourg and Italy: 12th June – 15th July
PAY: $1,250 p/w + superannuation
ALLOWANCES: accommodation, per diems, and travel arrangements, in line with the Pay Guide – Live Performance Award 2023.
THE ROLE
We're looking for an experienced Stage Manager to work with the company for the European Tour of major dance-theatre work – KING. The Stage Manager will spend a week in the rehearsal studio with the company to learn the show and assist the Production Manager.  The company will then tour to Europe, with the Stage Manager coming an integral part in ensuring the smooth delivery of the tour and all performances. The Stage Manager's direct report will be the Production Manager.
THE SHOW
Originally premiering in 2019, KING is a largescale dance-theatre work featuring nine dancers plus a live, on-stage singer. It is an interrogation of masculinity, homosexuality and homophobia and the innate power dynamics that exist within patriarchal structures. Created by Shaun Parker and composer Ivo Dimchev (who performs in the show), KING recently completed a six-show season as part of Sydney WorldPride 2023, earning rave critical reviews. The upcoming European tour marks SP&Co's first international tour since the pandemic, having previously toured to 21 countries across five continents.
THE COMPANY
Shaun Parker & Company (SP&Co) is one of Australia's preeminent dance-theatre companies, touring nationally and internationally to critical acclaim. Overseen by Artistic Director and CEO Shaun Parker, the company creates daring, narrative driven works featuring original scores and Shaun's world-renowned choreographic style.
The Stage Manager's Responsibilities include:
Calling the show during the season
Assisting with bump-in, bump-out and auditorium set-up
Working with the Production Manager, lighting and sound designers, and venue technicians to ensure the highest quality presentation
Sourcing and booking any additional or special equipment needed for the season, as directed by the Production Manager
In collaboration with the Tour Manager, coordinating all logistics and company movements for the tour
Ensuring health and safety protocols are adhered to at all times
Completing any incident report forms if required
Keeping and submitting detailed show reports in a timely fashion
Working closely with the venue, suppliers and other external partners
Assisting the dancers with costumes, wardrobe, and any other show-related issues
Remaining calm under pressure and problem solving during performances to swiftly overcome any unforeseen hurdles
Key Attributes:
Proven experience stage-managing large-scale dance, theatre and music productions
Strong working knowledge of technical requirements for dance and live music performances
A positive, solutions focused attitude
Calm and clear response when working under pressure during touring
Available for all the below dates, noting that the shows take place in the evening and on weekends
Driver's license
Right to work in Australia
Experience working on performances within a festival context (desirable)
International touring experience (desirable)
A valid Australian Passport with at least 6 months validity still available
KEY DATES
5 June – 9 June: Rehearsals in Sydney
12 June: Company flies to Germany
13 June – 27 June: Performances in Germany and Luxembourg
28 June – 11 July: Break in tour
12 July – 14 July: Performances in Italy
15 July: Company flies home to Australia
We are happy to discuss a flight buy-out for the return journey to Australia, should the candidate wish to stay in Europe(Summer in Europe) after their contract has ended.
For queries and to submit an application please email a CV and covering letter to:
admin@shaunparkercompany.com with 'Stage Manager Application' as the subject line.
Due date for applications:  Friday 28th April, 2023
Thank you!