Mildura Langtree Mall Takeover – Free Performances, Workshops, & Hip-hop Competition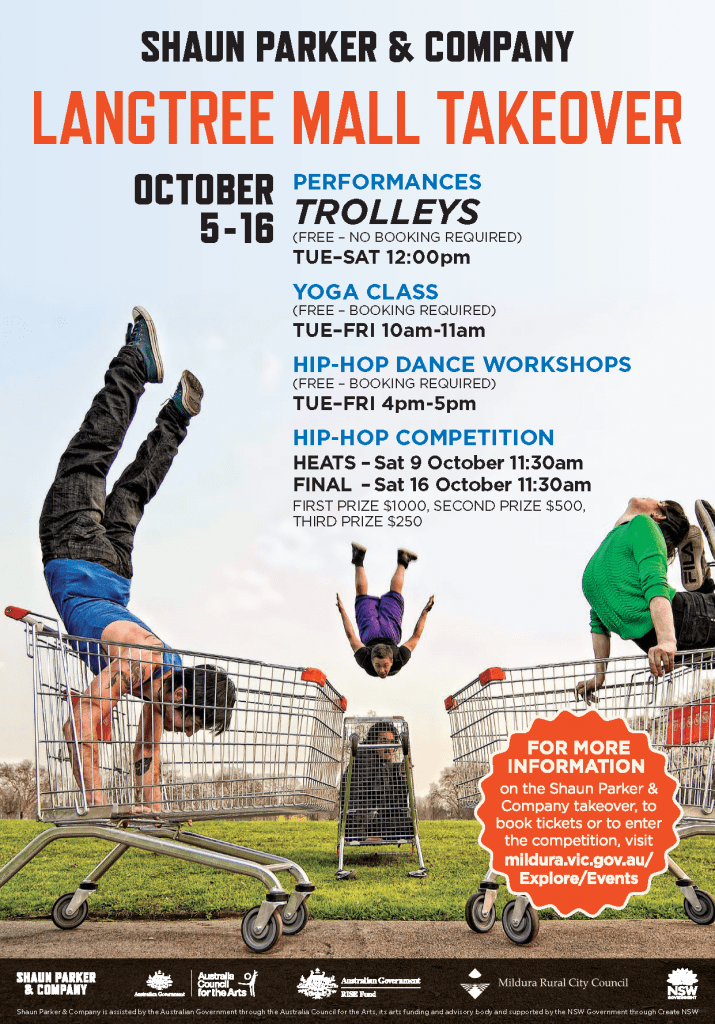 Shaun Parker is returning to his hometown of Mildura for a two-week residency! With free performances of the award-winning TROLLEYS, free yoga classes and Hip-Hop workshops plus a competition to find Mildura's best dance crew, SP&Co is giving back to the town where it all started! This residency is kindly supported by the Australia Council for the Arts, Create NSW, and the Restart Investment to Sustain and Expand (RISE) Fund – an Australian Government Culture & Arts initiative and  Mildura Rural City Council. 
THE RESIDENCY
• Free performances of the award-winning TROLLEYS at Langtree Mall (Free – No booking required)
• Free Hip-Hop workshops (Free – Booking link)
• Free yoga lessons (Free – Booking link)
• Hip-hop competition (See details below)
SHAUN PARKER & COMPANY IN MILDURA HIP-HOP DANCE COMPETITION
Are you a dancer or in a dance crew performing Hip-Hop or Jazz?
Are you creating your own routines or performing original choreography created by someone else? If yes – this competition is for you.
World-renowned and award-winning dancer and choreographer Shaun Parker, who was born and raised in Mildura before creating and performing around the world, is back in his hometown for a special two-week residency.
As part of the residency, Shaun Parker will be running a dance competition looking for the best dance talent in the Mildura region.
TO ENTER, YOU MUST . . .
• Be a dance group (5 or more) or dance crew performing original work
• Be creating Hip-Hop or Jazz style dance pieces
• Be available to perform at Langtree Mall, Mildura, on Saturday October 9th (heats) and Saturday October 15th (final)
HOW TO ENTER
Send an email to projects@shaunparkercompany.com by Monday 4th October 5 pm including:
• Subject: Mildura Dance Competition
• 3-5 minute video of your crew performing an original routine (this does not need to be a professional video – it can be filmed on your phone or laptop – as long as the visuals are clear)
• Your names, ages, and contact details
• The name and contact details of your parent or guardian if you are under 16
HOW THE COMPETITION WORKS
• Shaun will choose the top five performances from the applications sent, with the shortlisted performers being contacted via email on Tuesday 6th October by 5pm.
• Saturday 9th October. The top five will perform at Langtree Mall, Mildura, from 11:30. Shaun will then choose the top three to go through to the finals.
• Saturday 15th October. The top three will perform in the finals, with Shaun choosing the winner.
PRIZES
1st Prize – $1,000
2nd Prize – $500
3rd Prize – $250