LAUNCH – Intensive Workshop Week with Shaun Parker & Company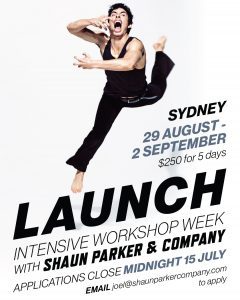 Shaun Parker & Company would like to extend an opportunity to contemporary dance performers to apply to participate in our upcoming LAUNCH – Intensive Workshop Week.
Shaun Parker has developed a holistic 5 day program that provides participants with a rare opportunity to experience an insight into working with Shaun Parker & Company. Throughout the 5 days participants will learn repertoire from the company and undertake classes with company dancers in Contemporary dance, Hip hop, Yoga and Tutting. Shaun Parker will lead sessions for tasking, dance making and dramaturgy, giving participants a valuable insight into his artistic process.  The program is a perfect 'Secondment Week' for future graduates, and is set up to be like 'working day to day' in the Company.
LAUNCH will be held in Sydney from 8am-4pm each day from Monday August 29th to Friday September 2nd. The classes and training will take place at AMPA – Performing Arts Centre, 4/85-91 O'Riordan street, Alexandria, NSW.
To make this LAUNCH – Intensive Workshop Week possible, we will need to charge $250 per participant. We understand the financial challenges of emerging dance professionals and have tried our best to make this valuable opportunity as affordable as possible, and the program is heavily subsidised from our end. Selected participants will need to fund their own transport and accommodation for this opportunity.
To apply, email your name, contact details, 1 page CV, headshot and showreel (5 minutes max) to joel@shaunparkercompany.com by midnight on Friday July 15th.
If you have any questions or would like more information please email Joel.